JOB CAMP Summer School
Earn essential Hospitality Compliance Certificates and learn Skill Sets, that are pre-requisites for
employment and get connected with Local Hospitality Jobs.
Duration: 2 Days. Cost: $85.00
JOB CAMP SUMMER SCHOOL | MELBOURNE
JOB CAMP Summer School is offered at our Melbourne CBD and Port Melbourne Training Centre and gives participants certificates in Responsible Service of Alcohol (RSA), Food Safety Handler (FSH) and Cafe Skills training.
A key objective of JOB CAMP Summer School is to connect our graduates with hospitality job vacancies.
Short Courses Australia has an extensive network of employers with local job vacancies that will be communicated to participants during the 2 day course.
On completion of JOB CAMP Summer School graduates will be invited to apply for these jobs.
JOB CAMP SUMMER SCHOOL | COURSE OVERVIEW
Participants will receive training and certificates in the following:
Victorian Commission for Gambling and Liquor Regulation (VCGLR) Responsible Service of Alcohol certificate;
SITXFSA001 Use hygienic practices for food safety (FSH) certificate;
Complete Cafe "service cycle" training under the supervision of our qualified hospitality trainer.
Meet local hospitality employer guest speakers to explain industry standards and norms;
Opportunity to prepare an online application for employment with local host employers;
Receive a certificate of completion for the JOB CAMP Summer School course.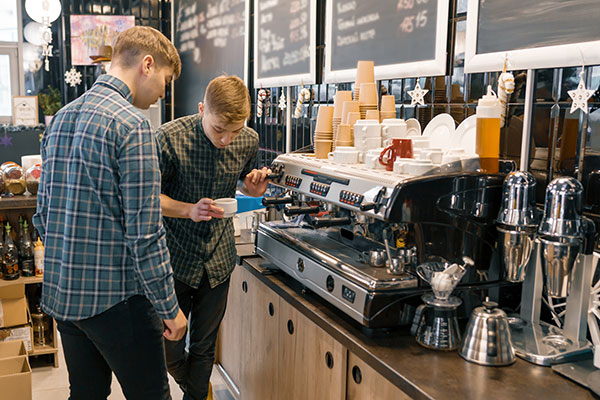 BOOK NOW | JOB CAMP SUMMER SCHOOL
The cost of the JOB CAMP Summer School is $85.00 per person, including certificates. Click Here for delivery at your Council, Agency or Secondary School.
Filter By Location
Date & Time
Location
Price
Book Now
Waiter, Bar & Cafè Jobs
Immediate Start

Immediate Start
Customer Reviews
"Lindy was amazing. I am an international student but she explained with plain words so I could understood easily. Would recommend to anyone who want to get their RSA."

"Mr Jonathon is a very knowledgeable, friendly and experienced instructor. He shared many real life experiences with us during the lessons and the class was very interactive. He presented all the key elements interestingly on time. I enjoyed the class a lot. Thank you and best wishes!"

"The course was really informative. Our instructor, Jonathan presented the key elements of RSA interestingly & precisely within a very short time. Me & my husband did the course together. We learnt so many new things, enjoyed the class & performed well too. Will come back again for another course soon! Thank you!"

"Working 55 Hours was unable to attend in person so went for the online RSA program. Shoutout to Lindy, Genuine passion for teaching responsible service , clarifys any misunderstanding Highly recommend, Certificate was issued next business day"

"John was a fantastic RSA teacher! Extremely patient with the other students and was very professional"

"Jonathan and the team at RSA Melbourne were great from booking to course delivery. Jonathan was very knowledgeable in all things relating to liquor and conducted a free flowing, inquisitive study environment. I definitely rate my short course experience."

"Funny teacher and easy to understand."

"The course was very insightful. I actually learned a lot of new things. Andrew the facilitator did really well presenting the course and he was very accommodating with our questions. I would definitely recommend them!"